Introduction
It was worth the wait when I stood in line for almost an hour to get a seat ticket to an interview with Claire Keegan at the Louisiana Literature Festival.
I love to seek out and evaluate writing advice. Claire Keegan reminded me of why. She generously but firmly shared insights and advice from her writing journey and started by stating, and I am paraphrasing here, that writing is hard. She would never say - I love writing. As if writing comes easy.
In a previous blog post, I proclaimed that I love to write and encouraged anyone else to embrace their love of writing. Keegan's emphasis on what she found to be the task of writing, namely, to honestly give expression to lives lived in the margins, was a reminder to reel me in. So here is my modified take on my love of writing. It can feel like play and an outlet, but more than anything, it is a place to grapple with meaning and stories. Writing is hard because life is complex, and when you want to throw language into the mix and offer it justice, you need to show up wholeheartedly.
When a writer manages to show up like this, I know it is an author I am ready to take advice from.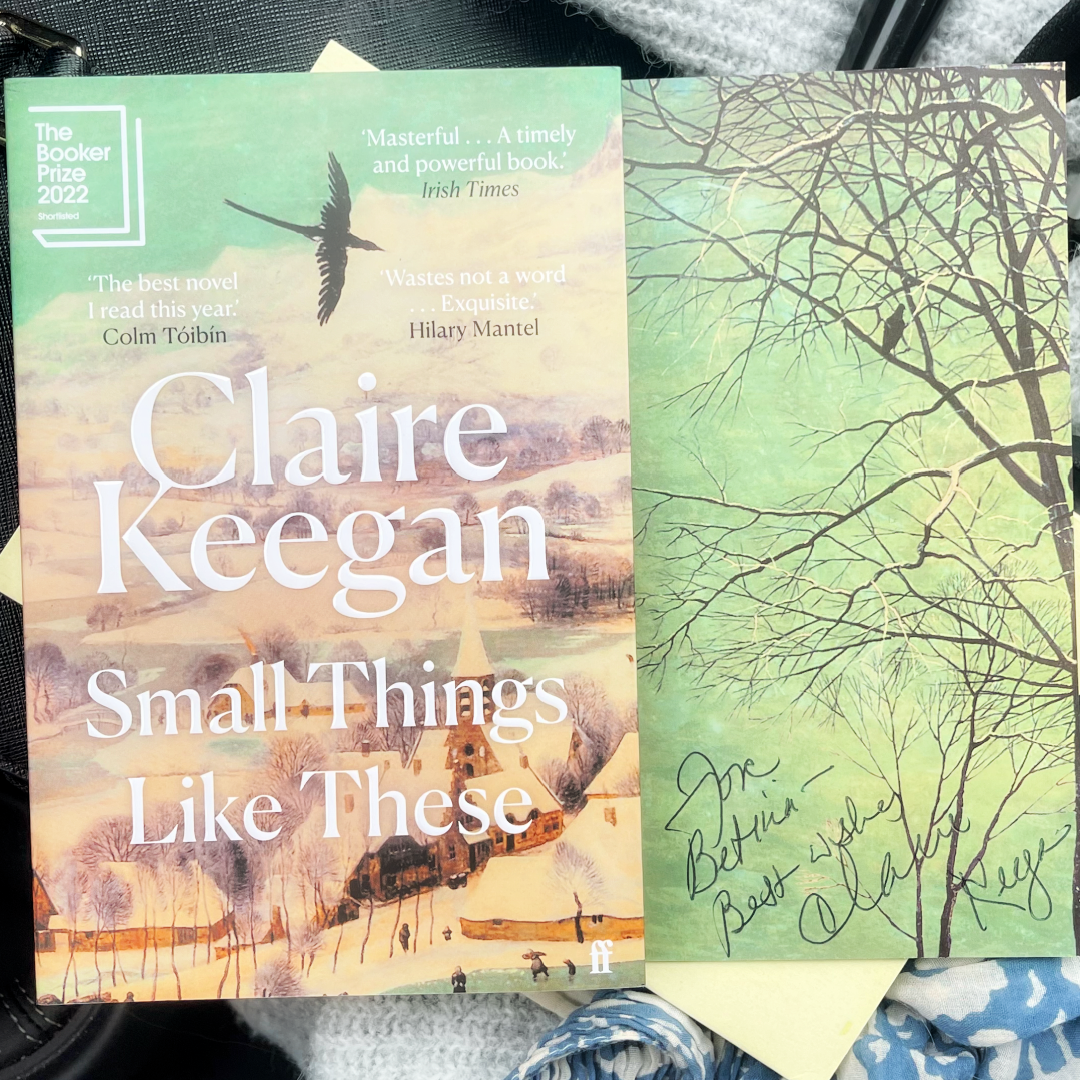 Writing advice from Claire Keegan
When Claire Keegan shared the insight, Loss is what feeds narrative, I knew I would hang on to every word to come because, in one tight sentence, she encapsulated craft and vulnerability. This brevity is something that characterizes her work. The latest novel, Small Things Like These, is just 110 pages despite a heavy topic of social injustice. Perhaps this is due to her preference for tension over drama, which she also mentioned during the interview. She phrased it something like this, that she was more interested in what happens after what has happened happens.
Shared inspiration like this is why it elevates me to go to literature festivals and events. A good interviewer facilitates a space for the author to share how they, through creativity and vulnerability, try to show up wholeheartedly to their craft and stories.
What happened to me after this interview was that I wanted more. So now I hope to go to one of Claire Keegan's Residential Writers' Retreats in the spring of next year to gather more advice and, more importantly, apply it in my writing practice. For now, I will use the advice and insight already gathered to craft a fall writing practice.
Crafting a Fall Writing Practice: Creating Your Own Curriculum
Step 1 - Setting Clear Goals:
Determine what you want to achieve with your writing practice this fall.
I want a practical and inspirational writing practice. A practice where I focus on craft and vulnerability. I want to recommit to my devotion to writing.
Step 2 -Incorporate Key Advice:
First, list the advice you gather and then turn it into a statement. For me, this looks like this:
I will favor tension over drama

I will not make a point of a character but convey character through language and style.

I will let loss feed the narrative

I will explore what happens after what happened happens
When doing research for this blog post, I found this blog post, and I got goosebumps when I read another advice given by Claire Keegan: The language of a story begins at a certain point of time.
It made me think about where to start my memoir and what that means for how I choose to tell it. What kind of language is available when loss cuts your tongue? Do I try to find the language for where the story begins, or do I begin the story when I, after a loss, can use language again? I guess "What happens after what happened happens."
Each of these pieces of advice contributes to my goal of focusing on craft and vulnerability.
Step 3 - Writing Prompts for Fall:
When you have gathered key advice from one or more authors, then design a series of writing prompts for the fall season. Tailor prompts to align with your goals and the advice received.
For example:
Setting. Write a scene taking place in a specific setting during autumn. Pay close attention to describing the sights, sounds, smells, and textures using clear and vivid language.

Emphasize the unsaid: Write a dialogue-heavy scene between two characters who have a strained relationship. Instead of explicitly stating their emotions, convey underlying feelings through body language, pauses, and indirect speech.

Language of loss: Write a scene using a distinct narrative style that reflects the emotional state of the main character who has experienced losing something or someone. The language and sentence structures should evolve as the character navigates through this loss, allowing the reader to feel the character's emotional journey.

Develop character: Choose a minor character and write down everything you know, delving into inner thoughts, fears, and motivations. Craft a monologue with the language and insight available to this person. Doing this will help you understand the character better and add depth to your story.

Make every word count: Take a scene you have written and challenge yourself to condense it while retaining its core elements and emotional impact. Focus on eliminating redundancies and making every word count.
These examples are starting points for your writing practice. When you integrate pieces of advice into a structured fall writing practice, you will be well-equipped to develop and refine your writing skills over time.
You will find your unique approach and develop a writing style that resonates with you.
Step 4 - Create a Reading List:
Compile a list of books and resources based on the author you want to take advice from
My Reading and resource list so far.
The Gift by Lewis Hyde: This book is on the list because I first heard about it through Claire Keegan, and when I found out that another favorite author of mine, Margaret Atwood wrote the preface, I wanted to read it. This book delves into the concept of creativity and the exchange of gifts. I hope it will provide insights into how stories and writing can be seen as a form of giving and receiving.

Anton Chekhov's short stories, short novels, and plays - Chekhov is a master of subtlety and conveying complex emotions through seemingly ordinary situations. I hope to learn to develop character and tension by reading more of his stories.

Small things like these, by Claire Keegan. I can't wait to read my signed copy of this novel.
Other resources
Watch The Quiet Girl on Netflix based on the book Foster by Claire Keegan. - Comparing the book to the screen version could help me understand how storytelling elements change when transitioning between formats, and it got a high IMDB score. Recently, I cut down on screen time, but I allow myself an hour each evening. This week has been two episodes of The Office, but I think a weekly movie would be a nice way to relax after all that writing practice.
Step 5 - Don't forget to write
Conclusion
I hope this has encouraged you to curate your writing practice for this fall. Writing can be a lonely endeavor, and it is easy to forget, that you are not alone. I heard an author at the festival saying, Being alone is easier for me, but not necessarily better for me.
I need time alone and uninterrupted space, but I need also to engage with the world and life around me.
I remember my first visit to a literary festival and how listening to the authors talk about writing and books, and life as a writer made me feel at home. I recognized myself in the love of language and the impossible and possible conjuring of words into stories and stories into words.
Who are some favorite authors on your curated curriculum list? Let's connect on Instagram for crafting and sharing a writing practice for this fall. @writingdates